There's a lot to think about already,
payments shouldn't be one of them.
Pay easily and securely without having to worry with our most secure and advanced way of payment handling yet.
Pay using one of the many of accepted payment methods, which include everything from iDeal and Bancontact to credit and debit cards.

Paying is literally as easy as one, two, three.
The perfect harmony between
seller, buyer and platform.
Evapay maintains in constant touch with Merchants to fulfil, cancel, and refund orders. If anyone has any questions regarding an order or payment, Evapay will notify the Merchant or Buyer right away.

Everyone stays in constant touch with each other, this way can make sure everyone's happy and gets what they expect.
Every single page can get adjusted to fit with the purpose of its Payments. Never feel lost.

Evapay is easily expandable within minutes to fit to its purpose.
From putting content behind a paywall for an individual creator, to handling individual and recurring payments for massive corporations; its possible with Evapay.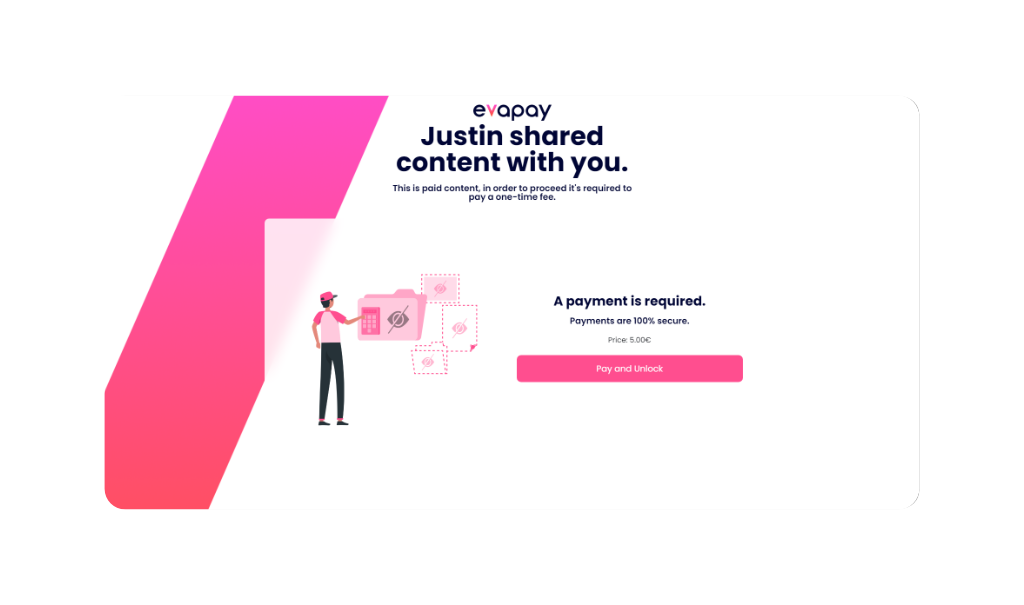 Evapay supports a wide variety of payment methods, so that you can pay with ease.

With an easy 3-step checkout process with no need to sign in separately, speed is at your fingertips.
With AES-256 maximum encryption of private information like credit cards, security is guaranteed.
With huge customisation and enhancement options easily within reach, we are able to enhance your experience within no-time.
We reshaped our vision on how we could make it as easy for everyone to do what they want. Cancel orders in no-time and get answers on valuable questions.
Evapay perfectly integrates with your favourite companies. From hosting to graphic design.
Evapay has a huge set of options for everyone. Allow customers to fill in their own payment amount or create subscriptions and paywalls.
Evapay is developed in-house with payments being handled by Stripe - a PCI Service Provider Level 1.

Confidential information like card numbers are securely encrypted with AES-256, ensuring maximum security.

Evapay is entirely developed in the Netherlands, this means you are also enjoying the benefits of European regulations. We completely follow GDPR.
Is there something wrong with your order made through Evapay? Don't hesitate to let us know through the button below.

Cancel your order, report scams and anything else.
Evapay is currently only available to PartydoosMedia and its Group / Turbo Partners.

Interested in Evapay for your business? Let us know.
Developed by PartydoosMedia Studios – All rights reserved.